BRANDS
Protocol Skincare

Protocol
is a radical skincare brand based in Los Angeles. They're driven to bridge the knowledge gap in the skincare industry, which I am all for because skincare is complex and requires research/expertise.
I say fuck the misconceptions! I've gotten too far to get here in my skincare journey to just be trying things lol. Protocol provides reassurance through it's science-backed skincare. I'm talking the best vitamin c and me finally trying
retinol
. Yes the r word. Super excited to show you my journey, along with my thoughts on each product in their skin renewing line!
All of their serums are bottled in an 100% oxygen and UV free environment for optimal effectiveness. Their bottles stays airless even when opened… that's badass. Learn more below on why this matters in below! ☺︎

Their totally airless and UV-proof bottle is built to protect the most fragile and delicate skincare ingredients—like Oxidated Retinol and L–Ascorbic Acid (vitamin-c). The team that builds their packaging also works in aerospace tech and the US navy. Good shit.

The Complete Renewing Line
Viscous gel that melts onto your face and gently lathers to clean/exfoliate dead skin cells.
A.H.A. & Aloe Cleanser


Gently resurfaces + purifies for healthy, glowing skin.

In the past when I've tried to incorporate A.H.A. (Alpha Hydroxy Acid) into my routine, my skin gets red, and I'll end up break out due to irritation. A.H.A. chemically exfoliates your skin, resurfacing it to reveal soft, smoother skin. With aloe and green tea, my sensitive skin feels no discomfort upon application. Sometimes products containing a.h.a. can give you a stinging/tingling sensation, which I don't like bc my skin is so sensitive, but that's why I think it is perfect to have in a cleanser. Gently powerful, for glowy skin!

Nourishment is essential in helping renewed skin flourish. This cleanser is pretty awesome because it's science backed to moisturize while gently purifying your skin (AND resurface) ;). The smell is clean, with light aloe + tea, which I like. After cleansing with this for 2 weeks in the mornings and at night. I have seen my texture improve while surprisingly, my acne is kept at bay. Will continue for at least 60 days so stay tuned for pics!
Absorbs quick and smells fresh like just out of an orange (how it should!)
Vitamin C Super Serum


The world's first and only pure, fully stabilized Vitamin C serum.

What does it mean for Vitamin C to be stabilized? It's important to understand that Vitamin C is super delicate, and degrades when exposed to oxygen. If your Vitamin C serum doesn't smell sweet and look like light yellow apple sauce, it has degraded. When this happens, the vitamin breaks down and is rendered inactive—therefore useless! Every hour it sits exposed to oxygen, it will degrade and lose its effectiveness significantly. I have made the mistake of using a vitamin c serum that has been left out, and wondered why it wasn't working lol… don't be me!

This serum contains "L-Absoric acid", which is the most pure and potent form of vitamin C. That is the ingredient you need to be looking for. There are a lot of derivatives of vitamin c, such as ascorbyl palmitate, tetrahexyldecyl ascorbate, and magnesium ascorbyl phosphate. None of which will visibly be as effective on your complexion as l-absoric acid.

Claims to boost collagen for thicker, more radiant skin. I love using vitamin c to brighten my dark spots and this serum works wonders in keeping my skin even! When I break out, I am always left with a dark mark that stays for weeks, but now the scars fade out within a 4-5 days. I really love this serum so far and apply it every morning. Will update as I continue using it!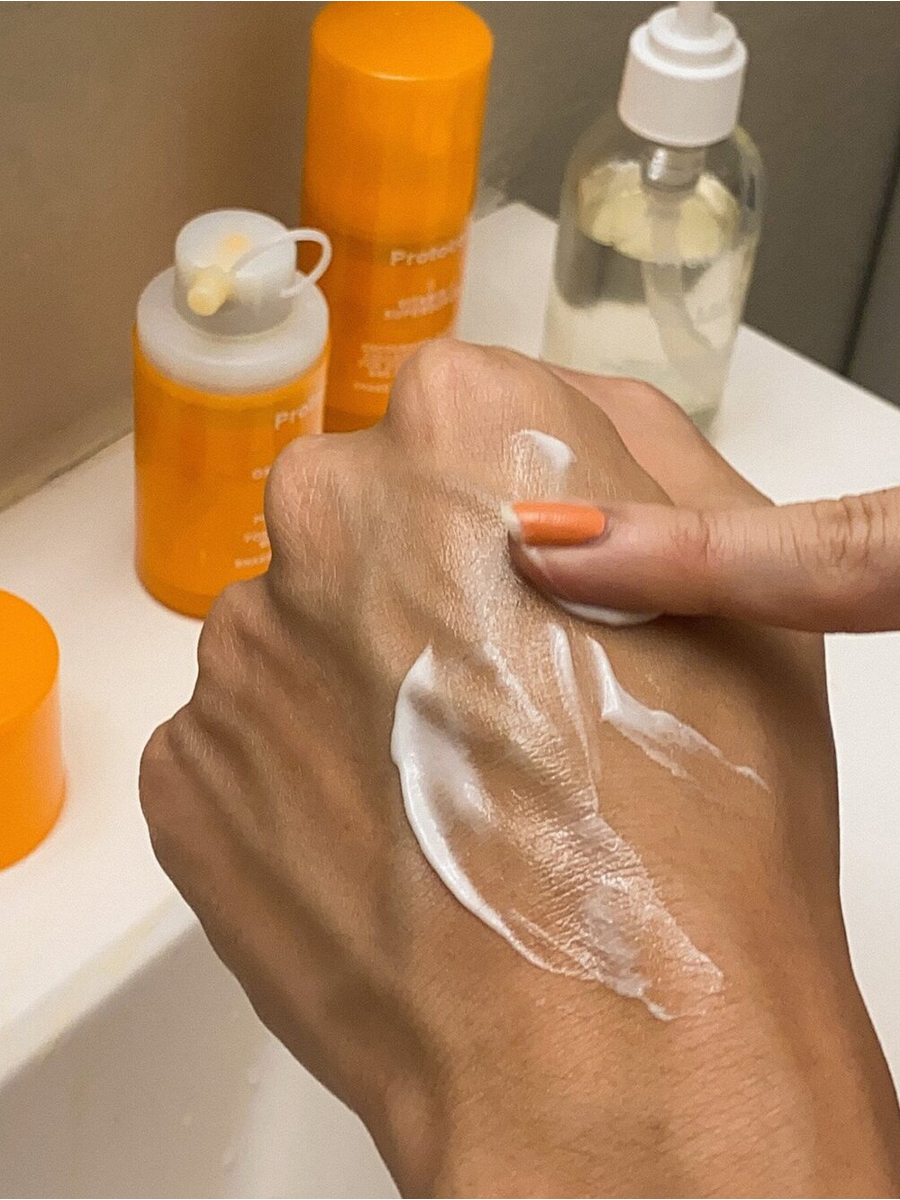 Moisturizer texture p*rn.
Hyaluronic + Niacinamide Cream


Whipped soufflé like texture. A fuffy cloud that's packed with super ingredients to moisturize and nourish your skin on a molecular level.

Hyaluronic acid, which holds 1,000x its weight in water, locks in hydration for suppleness. Niacinamide has skin brightening and anti-acne properties. Anti-aging, and a superstar ingredient in overall skin health! I was surprised how easily this luxurious cream absorbs without the greasy/heavy feeling. I have been using this cream morning + night everyday for 2 weeks and love it. Although it is primarily for nighttime, I like how I can use this during the day as well.

Check out my retinol before + afters with protocol here.
Let your retinol sit for about 3o mins before applying moisturizer if you can!
Oxidated Retinol Serum


The most advanced retinol serum on the market! This form of retinol is extremely fragile and needs to be made and bottled in a 100% oxygen and UV-free environment. Protocol is the only lab in the US that has ensured the entire process, start to finish, never sees oxygen or the light of day.

Retinol is anti-aging. Known to banish wrinkles, for smoother, firmer, more elastic skin. Retinal can transform your skin on a cellular level and I really appreciate the founder's hard-fought approach in developing their products. Read up on retinol as this ingredient was really skeptical to me due to its fragility. Retinol can also be extremely harsh on your skin. Effects include drying, flaking, and redness. Knowing my skin, I was afraid that it would react poorly, but Protocol's proprietary formula was designed to stabilize the most effective (and fragile) form of non-prescription retinol on Earth. I've only been using this every night for about 2 weeks now, and so far everything has been better than I could've hoped. I apply it as my last step before moisturizer. Nothing unusual yet, no purging either. My skin looks smoother imo but I will update with pictures as I continue to use! So far, so amazing! ☺︎
Protocol cracked the code on a vitamin c that can't oxidize + a retinol that doesn't irritate!
Thank you so much again Protocol. I really do support the badass stuff they're making over at
Protocol
and these are my honest opinions* I highly recommend their entire renewing line. I can't wait keep you guys updated on my journey bc so far my skin has been feeling renewed and fresh every morning.!!! Tune back soon babes.
See my Retinol Transformation here︎︎︎


Protocol in Action︎︎︎
Don't forget to get your greens ☺︎
kale
P.S. So much special love to Tyler and Molly ;)