PESTO PASTA & LEMONY GARLIC ASPARAGUS
My friend literally begs for my "PP" every time he comes over (pesto pasta ya nasty!)

Getting your greens couldn't get any more literal. This pesto has a refreshing zing, but can be rich + creamy with avocado. It can be whatever you want it to be. I made pesto pasta like 5 times from this recipe. So get creative. Just start with my juicy sautéed asparagus below. Yummmmm.
KALE TIP
︎ If it's pesto for dinner, then I might throw an egg yolk on top. There's so many ways to make pesto, and I want to see how you make yours! send me pix of how you get your greens ︎
︎ Store unused pesto in an airtight mason jar in the fridge. TBH this recipe made me at least 4 servings of pesto pasta. The trick is boiling the pasta fresh and saving that pasta water. It is liquid gold. The pasta is great as is—vegan, but occasionally bacon happens to appear in the fridge…
INGREDIENTS

Yields 4-5 servings

Pesto Recipe:

1 bunch parsley, mostly leaves

1 bunch mint/basil, mostly leaves

1 cup walnuts

1/2 cup pine nuts/almonds

1 small shallot / 4 garlic cloves

1 tsp oregano

1 inch ginger knob

juice of 1.5 lemons

-Opt: For a creamier pesto, add half large avocado.

Garlic Lemon Pepper Asparagus:

1 bunch of asparagus

2 cloves garlic, minced

1 tsp lemon pepper

1 tbsp honey

juice of half a lemon

garlic salt

DIRECTIONS

Pesto:
1. Throw everything into a blender and blend. add more oil if needed. Add spinach if feeling extra green.

2. Use immediately. Add ~1/4 cup of pesto into pasta. The key is reserving that pasta water. Add a lil of that gold liquid and stir on low heat until creamy.

Garlic Lemon Pepper Asparagus:
1. Wash and cut off the ends of the asparagus.

2. In a medium pan, heat oil on medium high heat. Add minced garlic and sauté until aromatic, about 2 mins, add asparagus and stir.

3. Add <1/4 cup water and let the asparagus cook, cover with a lid. steam until all water is evaporated, this shouldn't take too long so watch them. You want to cook the asparagus just right, so that they don't become soggy/soft (we hate that).
4. Uncover the pan and sauté asparagus on high heat until beautifully charred. Season with garlic salt + lemon pepper + lemon juice. Turn off heat, add a little drizzle of honey over the asparagus. You can skip the honey, but I personally think it goes well here. Dust some parmesan on top if you have any, and a sprinkle of Maldon salt flakes.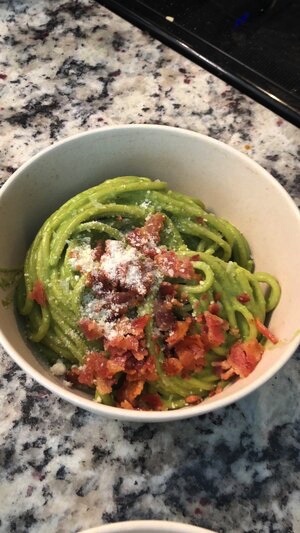 Make this recipe and earn 5 Kale Koins to redeem in our Kiosk :)

Eat me up n get ya greens!

xx,
kale