WELLNESS


My Marfa Travel Guide


Everything you need to know about this aesthetic art haven.

Oh Marfa, my old friend. I am so happy to see you again. This was one of my favorite spontaneous trips! With everything going on in life, sometimes it's nice to just escape far, far away in a desert where no one can fi— let's just say this trip was much needed for me, and you should go visit like now… For those of you who don't know, Marfa is a tourist destination in West Texas and is a major center for minimalist art. Marfa is weird, quaint, cute, enigmatic, yet beautiful all at the same time. With the nearest airport being 200 miles away, you won't be able to fly here. From Austin Texas, it takes roughly 7 hours to drive. Ok, I know what you're thinking, that is a drive. All of that just for a town that's 1.5 miles long? I really dislike driving so trust me when I tell you it is worth it. I went twice. Beyoncé and Solange have been multiple times. Here is a complete guide. Or a stunning Marfa brochure. Now get off your ass, grab some friends, and start driving!

Getting There: Drive

If you live in Texas, then you're lucky. Marfa might be a road trip away. If you're not as fortunate, check the cheapest flight into the nearest city! You might as well fly to Austin and visit me along the way.

This was one of the most beautiful sunrises I've ever seen. I guess the drive isn't so bad when you get views like these right?

Where to Stay: Airbnb

Y'alllllll, can you believe how freaking cute our airbnb was. I'm still obsessed honestly. Oh also, it costs $30 / night !!!! Yes, it really is that cheap! We managed to plan and book this trip just a few days before so I'm pretty proud of this gem. If you go, I recommend staying 2 nights!

I have to be honest with you. We really wanted to stay at El Cosmico, (the cutest, boho teepee campground), but it was beyond our budget. A few of my friends have stayed there and they said they really enjoyed it! But I don't regret staying here one bit. In fact, I prefer Airbnbs! There's just something about staying in a local home that you can't get staying in hotels, etc.

I think our tiny home really embodied Marfa. The inside of the home was adobe like with concrete floors. The space was small, but felt very homey. Obviously I went crazy over the minimal bathroom and stunning shower arch, but my favorite part of this Airbnb has be their front yard. It's secluded, peaceful, gorgeous and relaxing. Perfect for a morning smoke, or cup of coffee. The sunlight was soft, and the air felt fresh and crisp. Please wake up early and go take on this charming town. Mornings in Marfa are a completely different vibe, and you should go experience it! For only $30/ night, this Airbnb was a steal.

On my last trip to Marfa, we stayed in another cute little home but in Alpine, Texas (which is just 30 mins east of Marfa). Alpine is a small town of about 6,000 people and sits on a high plateau in the Chihuahua Desert.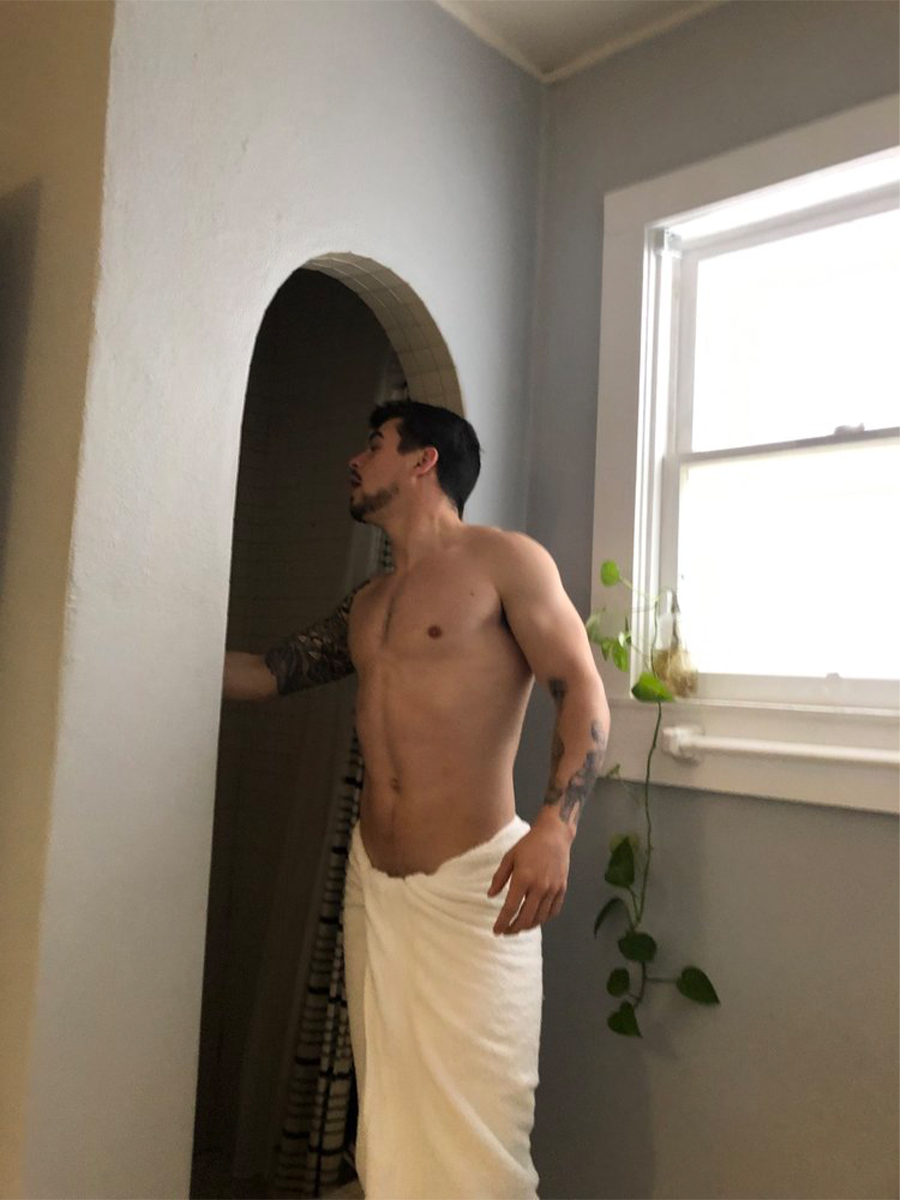 TIP: Remember to wear comfortable shoes because it's a lot of walking y'all! Don't be me and walk out with blisters…
1. The Chinati Foundation

You. Have. To. Go. Here. This is the biggest art collection in Marfa, and probably my favorite. The Chinati is located in the high, arid Chihuahua desert and the museum's collection is housed in fifteen buildings spread over a 340-acre campus. The artworks displayed are based on the ideas of its founder, Donald Judd. Judd exhibits his own arts and the work of other artists like Dan Flavin!

Admission: $10 but the outdoor block installation is free! I really recommend paying the admission to have access all the other galleries because they are stunning. The Chinati Foundation has guided tours as well as self guided viewing.

Be sure to check their website for updates on times they are open and available for tours! This is a must-see in Marfa. Go check the times.
2. The Iconic Prada Marfa

Ahh finally, the famous store that everyone talks about. The permanent art installation is about 30 minutes northwest of Marfa. Standing in the middle of nowhere, it does not fit at all, but that's part of the Marfa experience.

Unfortunately, you cannot shop at this historic icon, but you can definitely take photos.
3. Mysterious Marfa Lights + Stargazing

The mysterious Marfa Lights have mystified people for generations. Eyewitnesses have claimed to see colorful orbs that appear, split, and change colors in the desert. Ok, I didn't see any aliens, but I did see something spooky, and I loved it. Right after sunset, drive to the viewing area just 15 minutes outside of Marfa. The area is pitch black and last time I visited, I saw with my own eyes y'all... random sh*t pop up, move and change colors. It was pretty awesome.

The lights appear randomly; so if you're lucky, you'll see them. Unfortunately this time around, we didn't get to see anything. I think the full moon might've been too bright, but everything worked out because it gave us a chance to stargaze! It was stunning y'all. Since we are out in the middle of nowhere, has its perks; there aren't artificial city lights to hinder a star's visibility. As much as I love Austin, this is just something you can't see back home. Honestly, stargazing is undderated. I'd probably cry if you took me stargazing as a date. Just go outside and look up. I swear, it is surreal. P.s. It freezes at night so don't forget to bring a blanket to stay warm (but a cuddle buddy could work too ;).
Marfa wall at Frama Coffee.
JUDD printer building.
4. Explore Marfa

This little town is full of charming corners and shops. Park practically anywhere just start walking! You'll come across some cool boutiques, art installations, historic hotels etc.
Cobb House.
Cool stone pipes from the gift shop in El Cosmico!
The Water Stop

Out of the few spots available in marfa, this one is probably the most affordable compared to the hotel diners etc. We kinda went off and got chicken n waffles, Mac n cheese, chicken salad, and fries… I'll let the pictures do the talking.


Food Shark

This popular lunch- only food truck is a must when visiting Marfa. Unfortunately, we didn't get to eat here this time around, (they're closed on Sun- Mon… wtf right!!) but their Mediterranean food is soooo good. Also, its pretty cope that they decided to convert an old school bus into a dinning space! (Food Shark not pictured, but definitely go here).

Lavender bean, pistachio, + cookies n cream!
Frama Coffee

This adorable coffeeshop is connected to a laundromat, and it's our go-to every morning. I ate ice for breakfast here, and that's all that really matters. I was surprised they had lavender bean ice cream and it was gooooood. Oh, and the 'greetings from Marfa' wall is here!
Dairy Queen / McDonalds

Late night munchies or just cheap eats? We can always count on our chains! Obviously it's not the best food, but when you're in the middle of the dessert; beggars can't be choosers! We also had an unforgettable experience here hahaha…
Get Going!
That's it yall! I hope I've inspired you to visit this beautiful town while giving helpful insight.
This is my FIRST travel guide and I would greatly appreciate if you could Like or comment any feedback below! :)
More importantly—
Go get your greens ☺︎
kale
P.S.
The trek to Marfa is a long one, so why not make the most of your road trip by hitting all the West Texas spots along the way! Follow my trip after Marfa to Balmorhea
here
!