WELLNESS


My Glossier Review

I'm finally spilling all the tea on everything Glossier. What bops and what flops. The millennial cult brand plays on the no makeup makeup look, which is cute when you already have good glowing skin (not me). Here are my honest opinions on just about every product from Glossier. Check my 4 must haves, what's #kaleapproved, and what's not worth the $$$ below. ☺︎
KALE'S 4 Glossier Must Haves
(my best friend, Aliza has the same 4 favs…)
Boy Brow

—Boy brow was my gateway product to glossier. it was my first purchase from the brand and here we are with a whole haul lol. Boy brow was also my sister's first, then her boyfriend's lol. Imagine taking your brows to the salon and getting them blowdried. Like they just look naturally fluffed and groomed. If you love fuzzy-full brows, then boy brow is your everyday bestie. I've used every shade and they're all great (though I think their clear formula is like no other on the market), but I use it so much it gets expensive when repurchasing.

$16 the clear is my only must have. (I finally found a dupe—ily colourpop. I still support the OG Glossier brow tho.)
Cloud Paint

—Seamless buildable blush that adds life + color to your face/ without the makeup look. Of course right? It's Glossier we're talking about. This blush is fun and easy to use, just paint with your fingers and dab on your cheek . I personally love applying cloud paint with my dense blush brush—it just works for me. I love the Glossier cloud paint in Beam (radiant coral-peachy blush color) and Dusk (which is a nude) for a barely there glow! Took me awhile but I'm finally apart of the cloud cult. #kaleapproved

$18 pricey but a little goes a long way. TBH this little tube has lasted me FOREVER and I will repurchase when I finally run out. ☺︎
Glossier You Parfum

—They say it is supposed to smell like you… like wtf does that mean. It has notes of floral sophistication and just smells sooooooo good. I wear this scent all the time and always get compliments on it. Multiple people have asked me what I'm wearing and after revealing it was Glossier You, they said they TOO have Glossier You but it smells better/different on me. LMAO like it actually smells like you. Try for your damn self, bc this was a hard sell for me as well, but I will be repurchasing again and again. WORTH the $$ and the scent lingers for days. High quality and #kaleapproved.

$60 have already repurchased. My roomie has another in back stock lol.
Glitter Gelee

—Yes, this is one of my must haves. The formula + payoff of this gelee is incredible. I have the "Euphoria" glitter and a gold glitter called bijoux bijoux, both of which I am obsessed with. Day and/or nighttime. Boys and/or girls. Super cute as glitter freckles. Overall what I feel makeup should be—fun and for everyone. Glossier decided to discontinued this product due to sustainability reasons (glitter gets into the ocean and accumulates in waterways) so you can't get it right now. But stay tuned bc they will try to launch a bio-friendly glitter in the future! ☺︎
Hand Creme

—Packaging got me. It is just the cutest thing to have… (and not actually use bc its only 1.7oz and you can use this like 3 times...) I hate Glossier bc of this lmao. Smells slightly like their perfume, glossier you. (Which is one of my absolute favs from them but this smells clean and light) Lux lotion, but probably not better than any other hand cream. If you're buying for funsies, then it's #kaleapproved.

$18 and who wouldn't love this as a gift?
Priming Moisturizer Rich

—Ultra rich buttery face moisturizer that smells like a lux lavender. It's too small to be my everyday moisturizer, because I'd use it so liberally. Great for nighttime + it just smells amazing…. Really cute as a gift!

$35 pricey but yes— #kaleapproved as a treat yourself moment.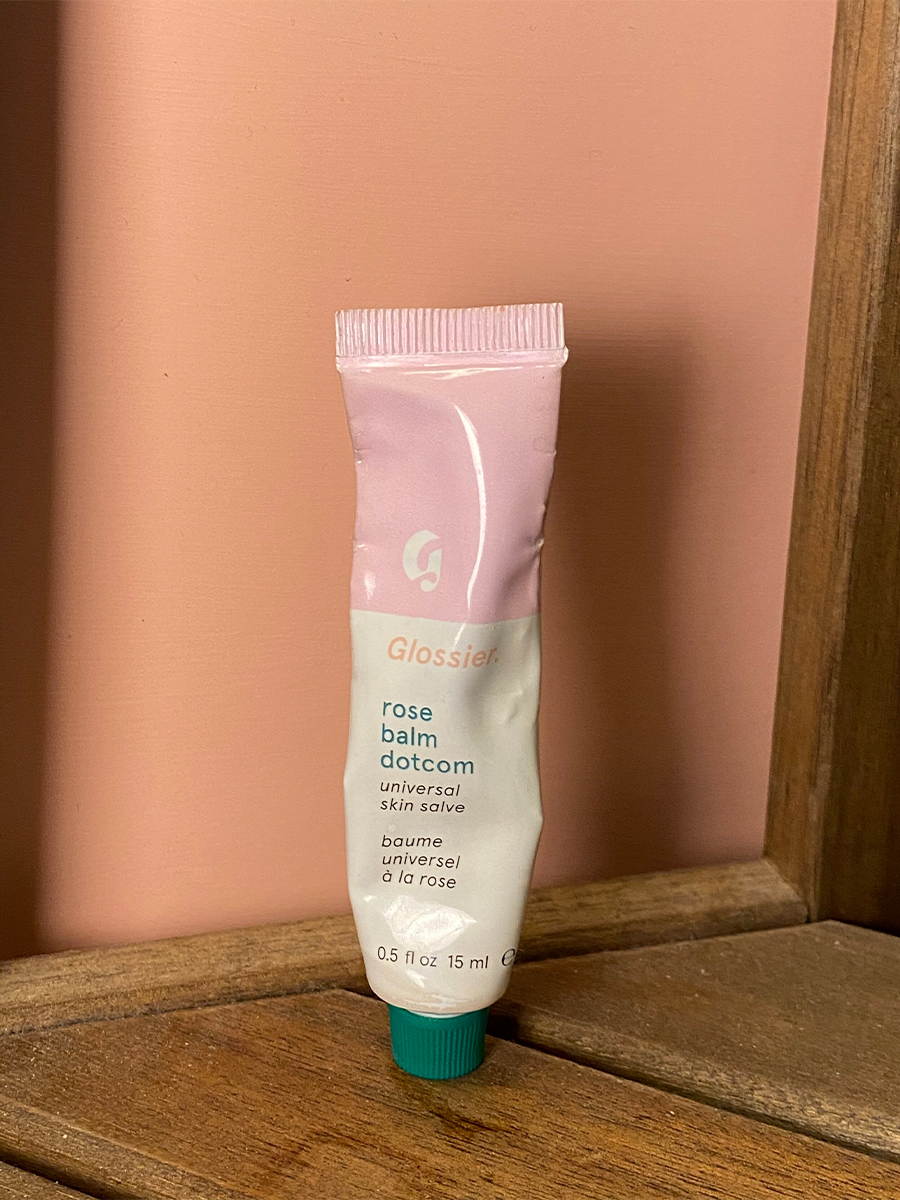 Milky Jelly Cleanser

—Super gentle gel cleanser that has a slight rose scent. Refreshing and is my goto morning cleanser bc it's so light. Wouldn't recommend as my primary cleanser/ makeup remover, but perfect as a second cleanse. I think this is also a splurge item. It feels nice and personally enhances my routine. Definitely #kaleapproved, but not a must have. Even tho I am on my 2nd bottle and have 2 more in back stock… lmfao.

$9 mini. $18 large. Just go for the big one and indulge.

Lip Balm

—I think they put vaseline in a tube with some scents. In fact, I'd rather just use my vaseline. I don't think this really hydrates or retains moisture, but it's cute as shit. My lips upon application are smooth, hydrated, but dry out quickly. Nice to have but why do I have to keep reapplying so much? So many better/ effective lip balms out there. IF you're getting one… rose or mint is my fav lol.

$12 scented vaseline in a cute tube. not worth miss glossier. but get the rose lmao.
Super Glow:
Vitamin C + Magnesium Serum

—I was super sketch for a serum this cheap by Glossier but it actually works. I used this constantly with superbounce and saw that my skin was more smooth/ bright. Minimal results but results nonetheless. I personally don't love the milky consistency, but it absorbs well. Cheap for a Vitamin C serum, but educate yourself on Vitamin C stability before you buy. It is very delicate.

$28. I won't repurchase, but it was cute to try! Works and is #kaleapproved for short term.
Super Bounce: Hyaluronic Acid + Vitamin B

—Skeptical at first, but this serum absorbs surprisingly quick, and the milky drops melt into your skin to instantly hydrate. Immediately, my skin felt smoother and more plump, but the effects seem to be for the short term. I layered this on after super glow and felt like the two work much better together which is lame. Won't repurchase because I don't think it's good for your skin in the long term.

$28. Hydrating but kinda boring, and there are better hyaluronic serums.
Futuredew

—I love the ideas of hybrids. This oil-serum has reflective properties that give you that 'natural' dewy glow. It's rather thick and a bit greasy to me but if used right, it can be really cute! The formula needs work, bc sometimes the product isn't homogenized. Like you can see the oil and the serum separate from each other when it should be a smooth, nude color. Futuredew claims to give you longterm glow, but I think that's bs :)

$24 shorter glow and is primarily used for fun. Not an everyday must have and it's #kaleapproved for now. (pls fix ur formula)
Lidstar Eye Glow

—Super sheer glistening eye shadow in a swipe. The concept and application is fun, but the execution is OK. This is a minimal, barely there product that's cute for daytime but fails for a night out. I have lidstar in moon and cub, and love moon in the corners of my eye the most even though it is incredibly sheer. Other colors may work well depending on your skin tone.

$18 I barely use it, so it is barely #kaleapproved.
Haloscope Highlighter

—A slightly dewy highlighter that works well on bare skin. Apply and smooth out with your finger. I used to love this product when I got into Glossier, but now there are so many other 'dewy' highlighters out there that outshine this one imo. The application is hard to put over makeup but if done right, it can have a natural dewy finish. Good on great skin.

$22 will not repurchase. I've come to love liquid/serum highlighters that dew more than just highlight.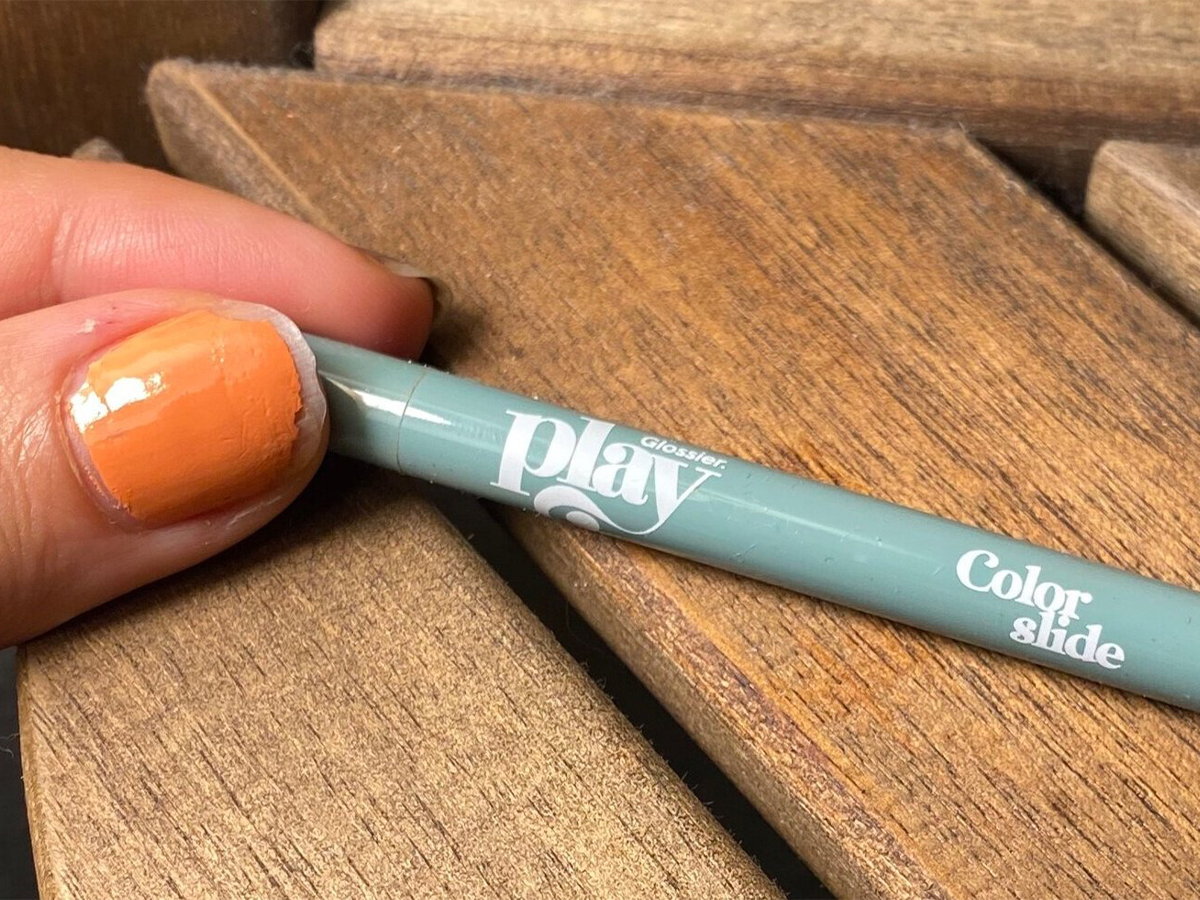 Colorslide

—Technogel eye pencil, whatever that is lol. The formula is creamy but… low-key cakes. I like the colors a lot, but the pencil is incredibly delicate and usually breaks when I try to sharpen it…(check the pic lmfao) I really like this teal blue and use this on days I feel like wearing something fun, but not actually do makeup. Waterproof and pigmented, but this one is definitely a splurge/luxury purchase for me!

$15 for this delicately fragile eye pencil. #kaleapproved but won't repurchase.
Solution Skin Perfector

—Claims to "transform your skin in 4 weeks". Ok. For $24 It just wasn't reasonable for me to expect a"transformative" experience for something that cheap but I DID??? I really thought it was going to change my skin but instead I think it further damaged my skin. I think this is one of those too good to be true items like AHA + BHA + PHA? Idk it just didn't work for me! My retinol works amazing and is transforming my skin. It's also expensive.

$24 but works for some people? My acne never went away or got better using this. Not approved.
Lip Gloss

—This clear gloss is cute and glossy af. But it's also super sticky and thick. Don't love the texture and it bothers me :( The holographic glitter gloss is cute for nighttime tho, but maybe I'm just a sucker for glitter….

$14 for gloss….not worth imo.
Skywash

—This matte swipe eyeshadow is again, cute concept, but poorly executed. Not pigmented and not really buildable bc it cakes…the matte formula dries fast and once it does, it sticks. #patchyvibes unless you get skilled with it! (which imo defeats the purpose of a product that claims to be a shadow swipe) you can find other shadows lol.

$18 for one…and needs new formula. Not kale approved.
Perfecting Skin Tint

—Claims to be the "land between makeup and skin" yEA, if your skin is blemish-less and beautiful to start. It is incredibly sheer and doesn't help with my acne and discoloration. No coverage whatsoever, and kinda just sits weird on my skin. Maybe it's bc my skin texture could use some work lol idk! Like it doesn't look natural on me like it is supposed to. Maybe due to it's water based formula(or my skin is trash) but I think there are better skin tint-hybrids out there that give you SPF+ glow.

$26 really wanted to love this, but it didn't work for me. Won't repurchase and not kale approved!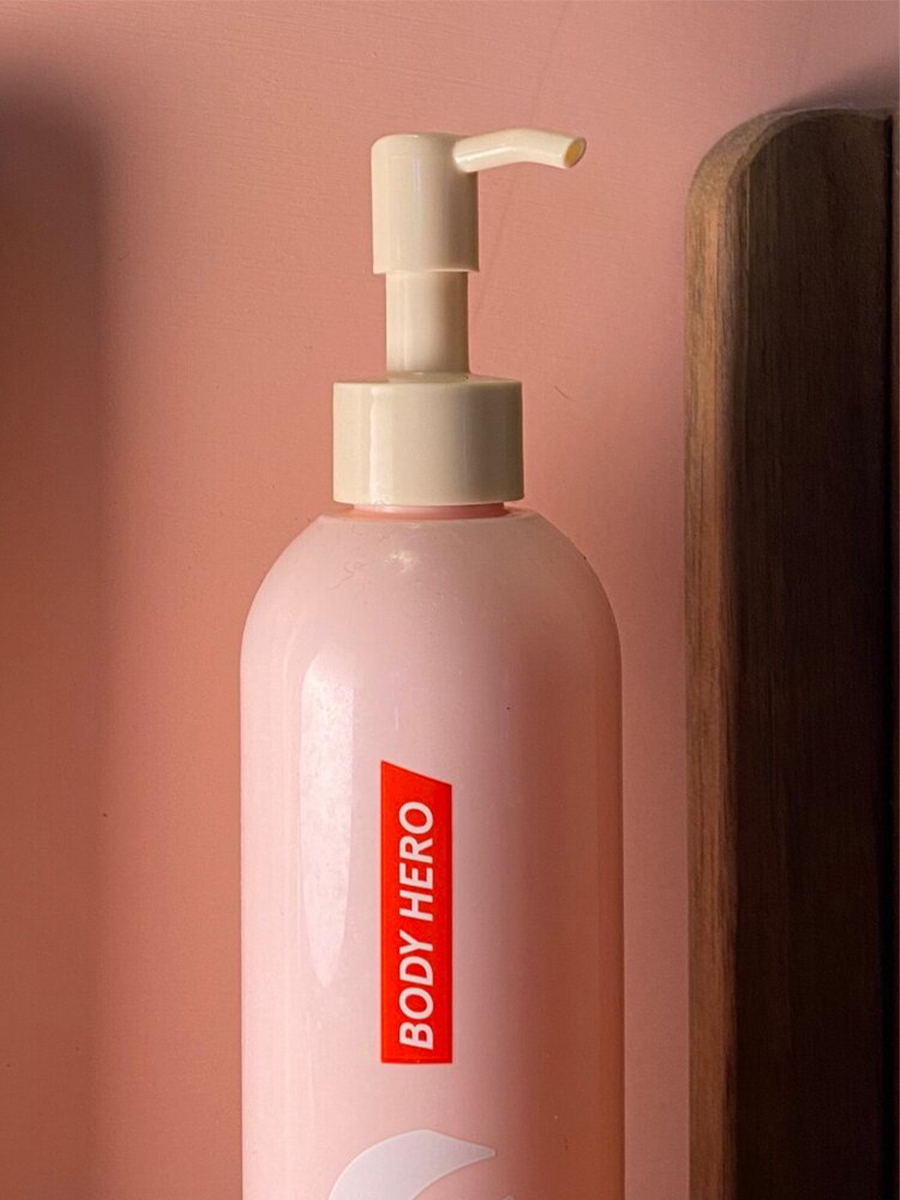 Body Hero Oil Body Wash

—We love the smell. We love the classic Glossier faint lavender geranium shit. But this body wash sucks. Its more for a light lather rinse. It doesn't really wash you. You'd have to use a lot of it to get that clean feel and even then, it's not what I prefer in a body wash! Cute for a gift, or for your mom, but not for me.

$18 eh, its cute and smells great. But use it on top of another body wash if you're going to get it lol.
Body Hero Body Cream

—This claims to be a skincare grade body lotion that makes you instantly glow (duh right) and it does have a nice light fragrance to it, but it is just alright. Good texture and feel, but not amazing. Idk, I just do not think it's worth it for the price.

$22 and wouldn't buy again. Go jump into the body lotion world and then consider this lol.
Thanks for reading ☺︎


I've been wanting to do this haul for a long time since I basically own every one of their products lol. Let me know your thoughts below and pls like n comment below hehehe.

*Every product reviewed above has been bought with my own money so truly they're my honest opinions. I hope this blog helps! Also, I've tried all of their products in store as well so if you have any other questions just dm me :)

till next time, get your greens ☺︎
kale