CHIA PUDDING
This easy recipe takes 5 minutes to make. It's dairy-free, vegan, and completely delicious.
FRONKS
Out of all the dairy free alternatives I've tried, FRONKS is truly superior. It's so smooth and creamy that I forget it's vegan. Austin is amazing because of its local businesses and we are so lucky to have FRONKS. I don't like most dairy-free alternatives because they can be bland and watery, and there's something about almond milk that just isn't good... The reason I love FRONKS is because their milk is a
blend
of almonds and cashews. It is sooooo good. They have three milks: original, simple, and cocoa. My favorite is the cocoa… ooooo I could chug the entire bottle.
Why FRONKS?

- All fresh, organic, vegan, glass bottles
- No dairy, added sugar, preservatives, GMO, HPP
- #KaleApproved
Chia Seeds
"Chia" is the ancient Mayan word for "strength".Don't be fooled by its small size, chia seeds are loaded with tons of powerful nutrients. They're high in fiber, protein, and omega-3 fatty acids. I love chia seeds because they're so easy to incorporate it into your routine. I usually throw chia seeds into my protein smoothies or my açaí bowls.
KALE TIP
︎ Chia seeds are high in protein, which can make you feel full. If I know it's going to be a busy day, this keeps me from getting hangry. Chia seeds can drastically reduce appetite and cravings.
︎ This recipe is great with coconut milk!
INGREDIENTS

Yields 2 servings

1/3 cup chia seeds

3/4 cup FRONKS nuts milk

1/8 tbsp light brown sugar packed

sprinkle of cinnamon

-Opt: Fruit/toppings
DIRECTIONS
1. Put all ingredients in a mason jar and stir well. Put in fridge for at least 1-2 hours or overnight!
2. Serve chilled with toppings of your choice. I love fresh fruit, coconut, cacao nibs, and honey!
3. P.S. I added blue majik to
naturally dye the chia pudding blue. More on blue majik and my tropical bowl here! I hope y'all enjoy :)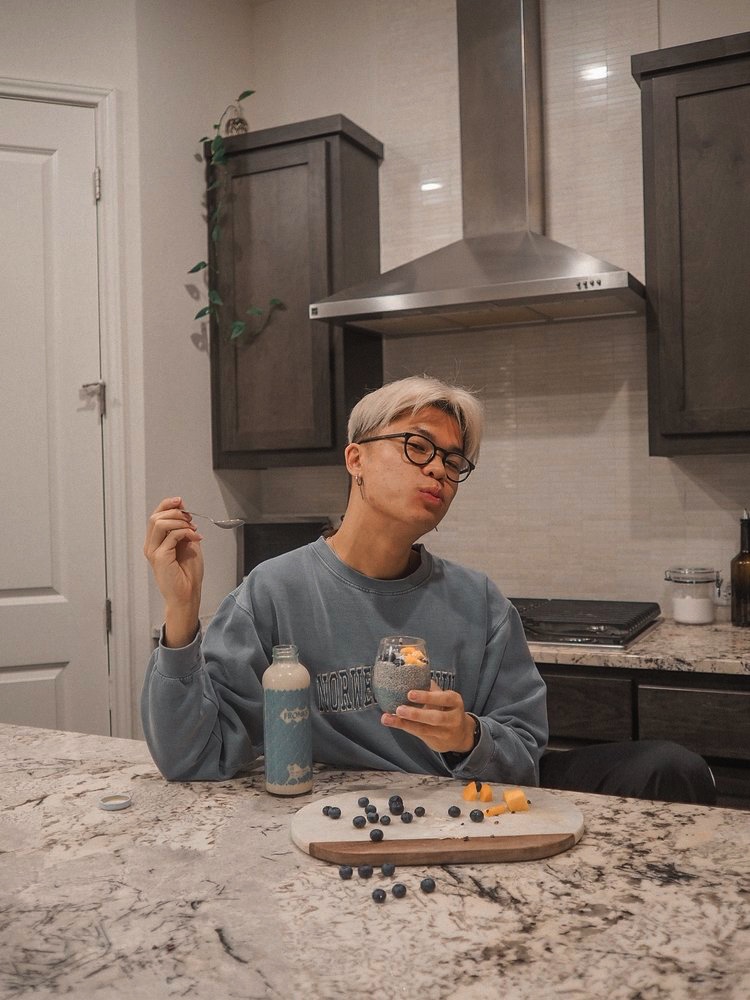 Make this recipe and earn 4 Kale Koins to redeem in our Kiosk :)

Eat me up n get ya greens!

xx,
kale